Speaking and Visits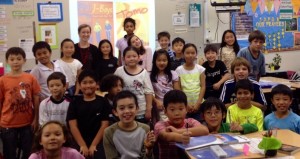 Avery offers school visits for the purpose of promoting literacy and awakening interest in translation. She also talks with adults about multicultural parenting and children's literature. She can appear live or via Skype.
Example Presentations For Children and Teens
Language Play with Kamishibai: Baby Chick. This talk for preschoolers and the lower grades invites children to enjoy a kamishibai in two languages. Onomatopoeia in English and Japanese encourage laughter and participation. Avery turns the kamishibai stage to reveal the bilingual text and introduce how she co-translated Baby Chick with Etsuko Nozaka.
Cultural Journeys with J-Boys: Kazuo's World, Tokyo, 1965. This presentation for upper elementary readers introduces the novel J-Boys: Kazuo's World, Tokyo, 1965 through a look at popular culture in 1960s Tokyo. Photos of Shinagawa Ward contrast with scenes from Leave It to Beaver and footage of The Beatles and Olympian Bob Hayes. Avery shares the Japanese version of J-Boys, a galley, and examples of translated children's books to introduce her role as translator. This talk can be combined with an appearance by J-Boys author Shogo Oketani.
Translation, in Translation: "House of Trust" in Tomo. This presentation for middle and high school students introduces translation through a look at "House of Trust" by Sachiko Kashiwaba. Avery reads her translation of "House of Trust" in English (ten minutes) and asks Japanese-reading teens to read from the original, leading to a discussion of translation challenges. Avery uses websites and images to portray translation as a vocation and describe the rewards of rendering "House of Trust" for Tomo: Friendship Through Fiction—An Anthology of Japan Teen Stories, edited by Holly Thompson.
Example Presentations For Adults
Four Worlds: A Writing Workshop for Multicultural Parents. This presentation for parents who raise children "among worlds" gives participants the chance to explore, aloud and on paper, how these worlds combine in their households. Avery shares ideas and prompts from her experience writing the column Four Worlds for Literary Mama.
Of Singing Clams and Soccer Camp: Children's Literature in Translation. This presentation for educators introduces English-language children's and teen literature available in translation from other languages. Why teach books in translation? What are worthy titles? How do books get published in translation? Avery addresses these topics from her experience as co-leader of the SCBWI Japan Translation Group.